BAPTIST CHURCH OF KOBRIN
The church of Kobrin has been built with the help of Missouri Baptist. It was built on swamp land and much of the material came from a former military base that had been closed because of Nuclear Disarmament treaties. The former base is now the home of the Baptist Children's camp. The church was built mostly by the members of the church. They would work their normal jobs, and then come and work on the church. The little building on the right side of the church contains the church's heating system.
There is a great story told concerning the building of the church which shows God's miracles. The church had been built, with the exception of the steeple. The people had no way to get the steeple raised to the roof, as it was too big and heavy, so a special prayer meeting was held, in which they prayed for God's help. A few days later, a truck, loaded with a crane, was traveling from Moscow, Russia to Warsaw, Poland. The main highway travels through Belarus and right by Kobrin. It was but a few blocks from the church, when it broke down. While the driver was waiting for parts, he was approached by some of the church people and agreed to unload the crane and lift the steeple. Yes dear Christians, God does answer prayers and is still a miracle working God.



Pulpit View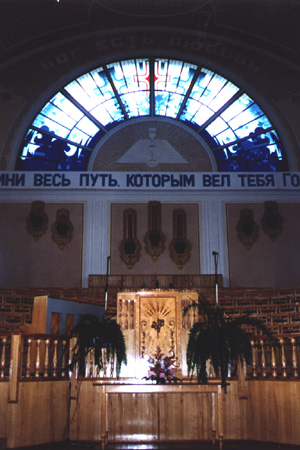 I preached here on a Friday evening. The church has a membership of over 750 members, but since it was a weekday evening only about 100 were present, as many were still working on the farms. When I said "Greetings from America", they all stood up and bowed and said "Greetings". It was a special moment.
Ceiling Light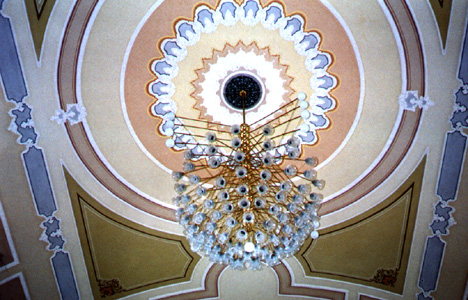 Above The Entrance Doors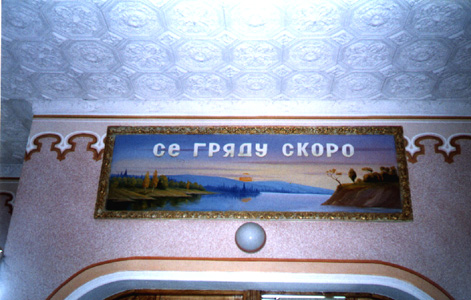 The Old Baptist Church of Kobrin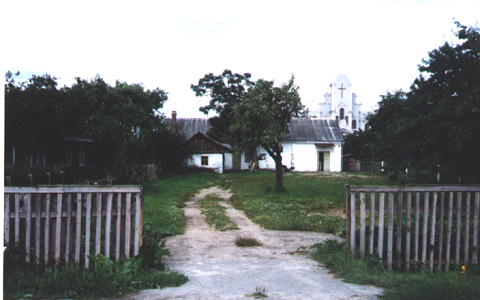 The old church building has been turned into a book store. You can see the new church in the background.


Return to Brother Daniel's Belarus Mission Page

Return To Brother Daniel's World